10KV level Epoxy Resin Cast Dry Type Transformer SC(B)、SC(B)11-30~2500
As the coil is cast by epoxy resin,so it is non-flammable,fire resistant,anti-explosive,maintenance free,pollution free,and can be installed in loading center directly. Why Dry Transformers?
Safe and Environment friendly Products
1. Reduce environment pollution
2. Zero leakage risk of oil or pollutants
3. Non flammable,self extinguishing
4. Strong anti short circuit ability
5. Strong seismic ability
6. Less space required
7. Strong overload ability
8. Maintenance free
EEC's dry type transformers are in conformity with the following standards:
1. National Standard of China GB1904.11-2007"Power Transformers"
2. International Electro Technical Commission Standards IEC 60076-11"2004 "Dry Type Transformers"
3. German Industry Standard DIN EN 60076-11:2005 "Dry Type Transformers"
Product Features In virtue of the coils sealed by epoxy resin, this series of products is fire retardant, fireproof, and explosion-proof and it possesses properties including maintenance-free, non-contamination, and small volume. It can be assembled at the load center directly. Besides, due to its scientific and reasonable design and casting process, the product has small quantity of partial discharging, low noise, strong heat dissipation capability and it is able to run for a long time with 140% rated load under the forced air cooling condition. In addition, this product is equipped with intelligent temperature controller that can achieve centralized monitoring and control.
Latest Development: latest trend and latest product 1. EEC SG15 Transformer is one series of excellent products with higher insulation and heat resistant level(H Class).It provides you longer insulation life and higher overload capacity,and it adapts the most optimum design for higher energy efficiency grade. 2. EEC Hi-Dry Transformers,this new type high efficient products was made from elaborate design,it has lower loss rate and excellent efficiency, and it is the ideal choice for customers who need to evaluate the overall environmental influences and total running cost.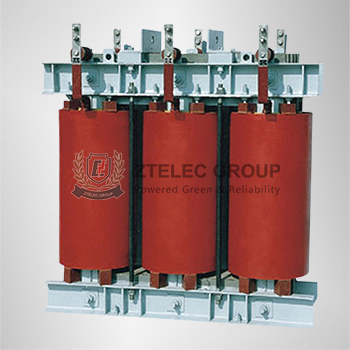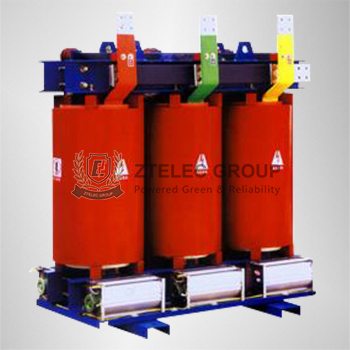 10KV level Epoxy Resin Cast Dry Type Transformer SC(B)、SC(B)11-30~2500
Rated High Voltage: 10(11,10.5,6.6,6.3,6 KV)                                                                                Rated Low Voltage:0.4KV
Insulation Level: L175AC35 / L10AC3                             Connection Group: Dyn11 or Yyn0        Tapping Range: ±2×2.5% or ±5%
Rated Capacity
(KVA)
Short Circuit
Resistance
(%)
SC(B)10
SC(B)11
Noise Level
(dB)
Weight
(Kg)
No Load Loss
(W)
Load Loss
120℃ (W)
No Load Current
(%)
No Load Loss
(W)
Load Loss
120℃ (W)
No Load Current
(%)
30
4
190
710
2.4
170
710
2.4
44
220
50
270
1000
2.4
250
1000
2.4
44
320
80
370
1380
1.8
330
1380
1.8
45
460
100
400
1570
1.8
360
1570
1.8
45
580
125
470
1850
1.6
420
1850
1.5
46
750
160
540
2130
1.6
490
2130
1.4
46
780
200
620
2530
1.4
560
2530
1.3
47
850
250
720
2760
1.4
650
2760
1.2
48
1030
315
880
3470
1.2
790
3470
1.1
48
1060
400
980
3990
1.2
880
3990
1
49
1400
500
1160
4880
1.2
1040
4880
1
49
1550
630
1340
5880
1
1210
5880
0.9
49
1820
630
6
1300
5960
1
1170
5960
0.9
50
1850
800
1520
6960
1
1370
6960
0.8
51
2150
1000
1770
8130
1
1590
8130
0.7
52
2550
1250
2090
9690
1
1880
9690
0.6
53
3020
1600
2450
11730
1
2210
11730
0.6
54
4500
2000
3050
14450
0.8
2750
14450
0.5
55
5300
2500
3600
17170
0.8
3240
17170
0.4
56
6200