Overview:
The prefabricated substation combines the high voltage electric apparatus, transformer, low voltage electric apparatus in to a compact whole set power distribution device, which is suitable for the urban high-rise buildings, resident communities, industry parks, mines and oil fields, and operation and construction fields. It is used to receive and distribute electrical energy in the distribution system.
The product has the advantages of high performance, compact structure, safe and reliable operation, easy maintenance, and mobility. Compared with ordinary transformer substation of the same capacity, it only occupies 1/10-1/5 space, which greatly reduces the work and cost of designing and construction. It is one of the selective whole-set equipment used in the construction and reconstruction of urban and rural areas.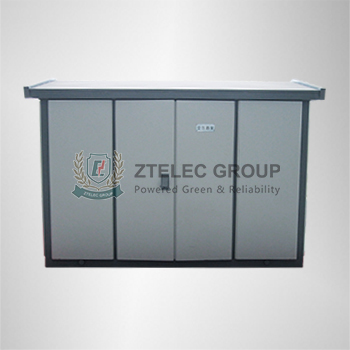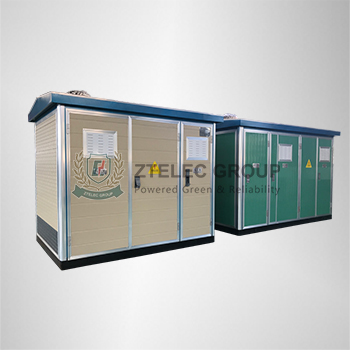 Major Technical Parameters
Items
Unit
High Voltage Electrical Equipment
Transformer
Low Voltage Electrical Equipment
Rated Voltage
kV
10
10/0.4
0.4
Rated Current
A
630
100-2000
Rated Frequency
HZ
50
50
50
Rated Capacity
kVA
30-1600
Rated Short-time Withstand Current
kA
20/4S
30-15
Rated Dynamic Current(peak value)
kA
50
63
Rated Close Short Circuit Current(peak value)
kA
50
15-30
Rated Open Short Circuit Current
kA
31.5(fuse protector)
Rated Load-breaking Current
a
630
1 min Power Frequency Withstand Voltage
kV
Grounded, Interphases 42 and between Open Contacts 48
35/28(min)
3.0/2.5
Lighting Impulse Withstand Voltage
kV
Grounded, Interphases 42 and between Open Contacts 48
75
Enclosure Protection Level
IP
Ip23
Ip23
Ip23
Noise Level
dB
Dry-type Transformer ≤55 Oil-immersed Transformer ≤65
Number of circuits
Loop
3
2
 8-15
Max Reactive Compensation for Low Voltage
kvar
300
Product Features:
1. Composed with high voltage distribution device, voltage regulator and low voltage distribution device, this product is divided into three fully functional compartments, namely, high voltage chamber, transformer chamber and low voltage chamber. The primary power supply system on high voltage can be designed into many power supply modes, such as ring network power supply, terminal power supply, and dual power supply, meanwhile, it can be equipped with high voltage measuring elements to complete high voltage measurement. For the transformer chamber, S9, S11, S13 and other low loss oil-immersed or dry-type transformers can be selected; and there are also automatic lighting system and cooling system. As for the low voltage chamber, either the panel structure or the cabinet structure (according to customer`s requirement) can be adopted as the required power supply plan. This product has many functions such as power compensation, electric energy metering, current measurement, etc. Thus it can meet different needs from different customers. At the same time, it is also helpful for customers in power supply management and improve the quality of the power supply.
2. With reasonable structure, the high voltage chamber has a comprehensive interlocking function for misoperation. And it can be installed with manholes on both sides if customers are in need. Automatic lighting systems are applied in each chamber. Moreover, all the elements in high/low voltage chambers are easy to operate and can perform reliably, thus the safe running and convenient maintenance can be ensured.
3. With natural ventilation and forced ventilation, this product has good aeration-cooling function. There are ventilation ducts in both transformer chamber and low voltage chamber. And temperature controlling devices are installed on ventilating fans, which can close or open according to setting temperature, so as to ensure the full load operation of the transformer.
4. Made from special steel plate and aluminum alloy plate that have been antiseptically treated, the chamber box has a structure that can prevent rain and other dirt from falling in. Being antiseptic, waterproof and dust proof, this chamber box can be used in open air for a long time without any change of the appearance.
Operating Environment and Conditions:
1. The ambient temperature is between 25℃ and 40℃;
2. The altitude shall not exceed 1000M;
3. The outside wind speed shall not exceed 35M/s;
4. The relative air temperature shall not exceed 90%(+25);
5. Both the horizontal and vertical earth vibration acceleration are 0.4M/S2;
6. No hazards of fire, explosion, severe contamination, chemical corrosion or violent vibration.