High-Pressure Fiberglass Laminate Resin-Based Laminates G-10
G-10 is a high-pressure fiberglass laminate, a type of composite material. It is created by stacking multiple layers of glass cloth, soaking in epoxy resin, and compressing the resulting material under heat until the epoxy cures. It is manufactured in flat sheets, most often a few millimeters thick.
G-10 is very similar to Micarta and carbon fiber laminates, because they are all resin-based laminates, except that the base material used is glass cloth. G-10 is the toughest of the glass fiber resin laminates and therefore the most commonly used.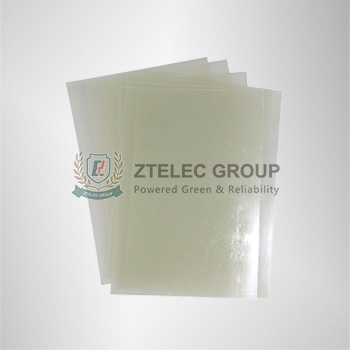 Properties
G-10 is favored for its high strength, low moisture absorption, and high level of electrical insulation and chemical resistance. These properties are maintained not only at room temperature but also under humid or moist conditions. It was first used as a substrate for printed circuit boards, and its designation, G-10, comes from a National Electrical Manufacturers Association standard for this purpose.
Decorative variations of G-10 are produced in many colors and patterns and are especially used to make handles for knives, grips for firearms and other tools. These can be textured (for grip), bead blasted, sanded or polished. Its strength and low density make it useful for other kinds of handcrafting as well.