NEMA- Paper Phenolic Composite Tubes and Sheets
Paper Phenolic composite tubes and sheets, formulated to meet NEMA (Mil-I-24768/11 type PBG) applications are a versatile thermoset material and perhaps one of the more under appreciated by today's engineers.
Its short time 500 Vpm dielectric strength, low moisture absorption rate (1.3%) and 130° C/140°C electrical/mechanical UL@ continuance temperature index make it suitable for transformer, switchboards, mounting blocks/panels, insulating washers, and switchgear applications.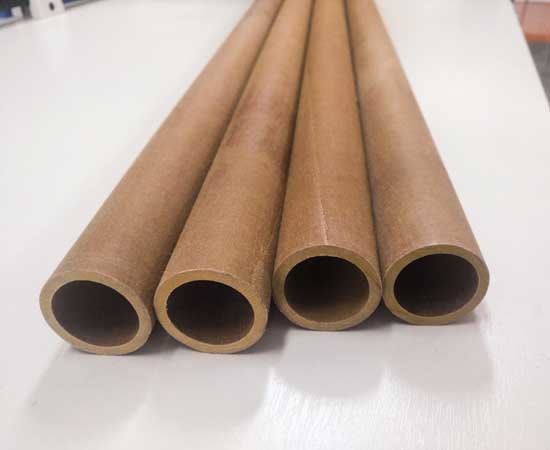 has excellent machining characteristics, is dimensionally stable and frequently used for jigs, fixtures and metal spinning molds. The highest volume application for paper phenolic is end cap insulation that holds 2 pins at the end of 4' florescent lighting and the top and bottom insulator of 9 Volt batteries in your smoke detectors. Franklin Fibre Lamitex paper phenolic is manufactured in sheets, round tubes (convolute wound), molded channel, angle, square and rectangular tubes, and custom fabricated parts. All meet or exceed NEMA LI-1 GRADE , MIL-I-24768/11PBG, EN60893 PF CP 203, DIN 7735 Hp 2065 specifications.