New Product Pressed Paper Board and Paper Phenolic Sheet
Product Description
1.Material: White cotton, phenolic resin. It is made of cotton cloth impregnated phenolic resin by processing under heat and
pressure. This sheet can be processed into all kinds of insulation parts of machinery and electrical equipment that require
high electrical requirements.
2.Funcation: It has high mechanical properties and electrical properties.
3.Standard: enterprise standard
4.Usage: Phenolic cotton sheet is widely used for transformers, electrical motors, electrical apparatus, etc. Electrical
equipments insulation structural parts.
5. Specification. :
Sheets: 0.5—100mm(thickness) 980X1980mm 1020x2040mm 1220X2470mm 1020x1220mm
Tubes: ID8–1200mm 1000mm( length)
Rods: 6–200mm(diameter) 1000mm( length)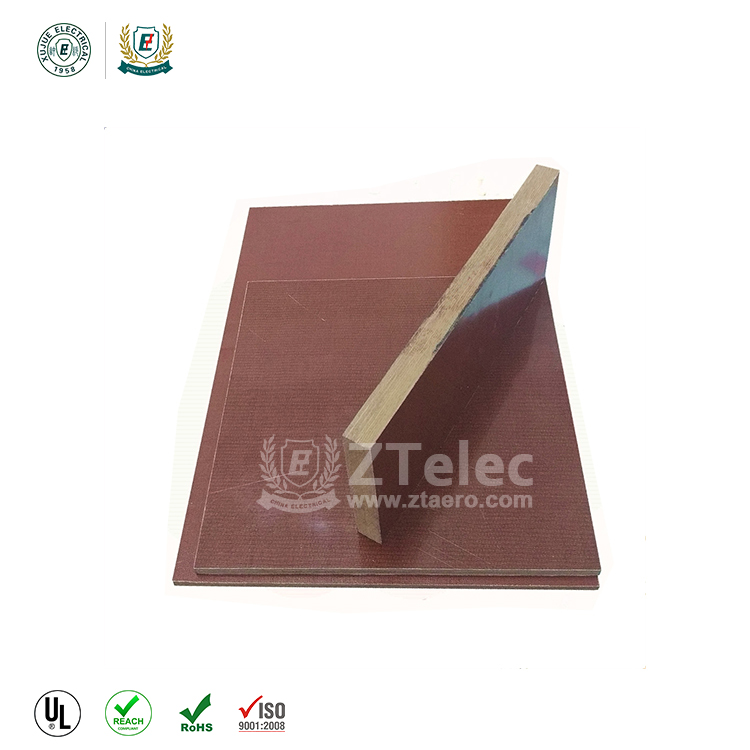 Techincial data
Item
Units
Values
Density
g/cm³
1.30-1.45
Heat resistance
℃
125
Tensile strength ≥
MPa
63.7
Flexural strength ≥
MPa
102.9
Impact strength ≥
kJ/m2
25
Bonding strength≥
N
5390
Surface resistance≥
Under normal condition Impregnated in water
Ω
—
Specific volume resistance≥
Under normal condition Impregnated in water
Ω.cm
—
Insulation resistance parallel to lamination≥
Under normal condition Impregnated in water
Ω
—
Voltage endurance parallel to lamination(in oil 20±5℃),5 minutes ≥
Kv