NMN Motor Insulation Paper Specifications and Characteristics of Its Fiber Materials
From the structural point of view, NMN composite insulation paper uses a three-layer structure, the outer two layers are NOMEX insulation paper, and the inner layer is MYLAR polyester film. It is precisely because of this that NMN composite insulating paper not only combines the excellent temperature resistance of NOMEX, the tensile tear strength, but also the excellent dielectric strength and mechanical properties of polyester film.
Excellent performance makes NMN composite insulation paper suitable for many occasions. Among them, the inter-slot insulation, inter-turn insulation and gasket insulation for Class F and Class H motors are effective for protecting various parts of the motor. effect. The inner diameter of NMN composite insulating paper is 3 inches, which can be supplied in rolls or cut into reels or sheets. Generally, the weight of each roll of NMN composite insulating paper is 60-70KG; the length depends mainly on the customer. Different requirements; width can range from 3.5MM to 914MM.
In order to maintain good performance of NMN composite insulation paper, NMN composite insulation paper should be stored in a dry and clean warehouse below 0 °C, and it should not be close to the fire source, nor can it be exposed to heat or direct sunlight to avoid damage. Reduce its performance and shorten its service life.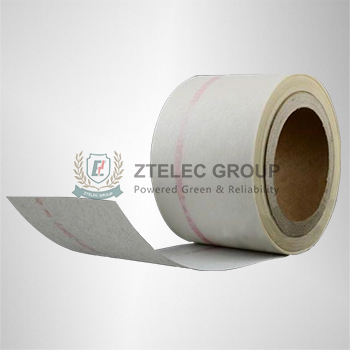 The fiber material of NMN composite insulating paper is the basic solid tissue component of plants, so in the atoms of its constituent material molecules, there are positively charged nuclei and negatively charged electrons running around the nuclei. Unlike metal conductors, the extremely small electrically conductive current in the insulator is primarily derived from ionic conductance.
In the NMN insulating paper, such a polar fiber is not only easy to absorb moisture, but also weakens the interaction force between hydroxides when the paper fibers absorb water, and the mechanical strength sharply deteriorates under unstable fiber structure conditions. Therefore, NMN composite insulating paper parts are generally used after drying or vacuum drying and oil immersion or insulating varnish.