Main Parameters of S11 Double Winding Combined Non-excited Tap Changing Transformer
Rated Capacity(KVA)
Voltage group(KV)
Connection Method
No Load Loss(W)
Load Loss(W)
No Load Current(%)
Noise(dB)
Short Circuit Impedance(%)
High Voltage
Low Voltage
50
6
6.3
10
10.5
11
0.4
Dyn11
Yyn0
130
870
1.4
≤55
4
63
150
1040
1.2
83
180
1250
1.2
100
200
1500
1.1
125
240
1800
1
160
270
2200
1
200
340
2600
0.9
250
400
3050
0.8
315
480
3600
0.8
400
570
4300
0.7
500
680
5400
0.7
630
810
6200
0.6
4.5
800
980
7500
0.6
1000
1150
10300
0.5
1250
1360
12000
0.4
Load Performance Parameter
No.
Name
Unit
High Voltage Side
Transformer
Low Voltage Side
0.4
1
Rated Voltage
KV
10
2
Maximum Working Voltage
KV
12
3
Rated Capacity
KVA
30~1250
50~4000
4
Rated Electric Current(Component)
A
5~630
15-75
5
Short Time Withstand Current
KA
12.5;16;20
1
6
Rated Short Circuit Withstanding Time
s
2
30-165
7
Peak Withstand Current
KA
20;31.5;40
5
8
Power Frequency Withstand Voltage
KV
35
35
9
Lightning Shock Withstand Voltage
KV
75
75
10
Rated Breaking Circuit of High Voltage Current Limiting Fuse
KA
50
11
Protection Grade
IP33
Hermatically Sealed
IP33
12
Rated Frequency
HZ
50;60
Product Introduction
ZGS series combined transformer, called as American box-type transformer, is different from the traditional box-type transformer substation because the transformer, voltage load switch, fuse wires and other protecting components are all installed in the insulating oil so as to form a compact structure. The insulating oil has high ignition insulating(> 312℃), that is adaptable for the special condition. The product could be equipped with low-voltage distribution, measurement and compensation devices.
The series of products have been widely used in the power distribution places such as resident community, public area, industrial and mining enterprises.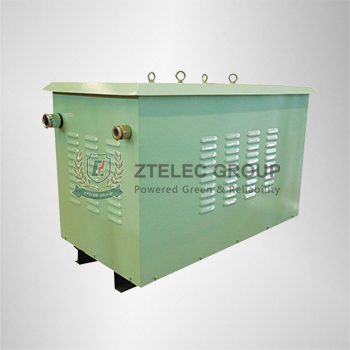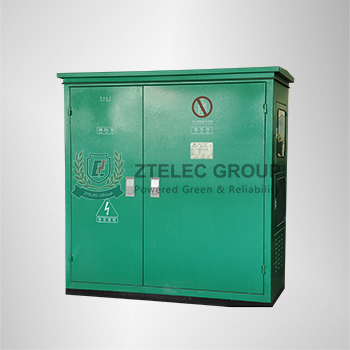 Product Features
ZGS series combined transformer is one of the high-tech products independently developed by our company, based on the technology of American pad-mounted transformer. As a common tank-type transformer, its common fuse protector, high voltage load switch (or high voltage load change-over switch), non-excited tap changers are installed in the oil tank as its components. And this product is also called American box-type transformer. (See the picture)
1. The capacity range is 100-1600KVA. It is suitable for 10KV distribution network which is the insulated neutral system or low resistance grounding system, while the 400V system is the direct neutral point grounding system of the three-phase four-wire system.
2. The main technology and economy index meet the internationally advanced level of the same products.
3. The product has complete structure, reliable power supply, small volume, light weigh and low noise.
4. It has the ring network type(ZGS-H) and terminal type(ZGs-Z) with cable output feeder.
5. It adopts the 10KV electric network which is connected to the center of load so as to reduce circuit loss, improve reliability of power supply and beautify urban environment and it is suitable for the urban power network renovation.
6. It adopts special connection method, which could guarantee the normal power supply of the non-fault phase of low voltage side when the fuse of one phase in the high voltage side melts. Its distinct advantages include high quality voltage, no-drifting of central point, no-heating of transformer body, low noise and good lightning protection performance.
7. This specially designed product has the transformer body, high voltage load switch (or high voltage load change-over switch) and non-excited tap changers installed in the fully-sealed oil tank so as to greatly improve space utilization. Its volume only equals to the one third of the box-type transformer(namely European box transformer substation) with the same voltage grade and same capacity, and its weight is greatly reduced too.
8. It possess high safety performance. The high voltage chamber is wholly insulated, and the high voltage chamber and low voltage chamber are separated but interlocked. The high voltage chamber can be opened only after opening the low voltage chamber.
9. It adopts the fault protection method of two stage fuse(current limiting fuse and plug-in fuse), which is safe, reliable and convenient for operation and easy to be replaced.
10. Its plug-in cable terminal is convenient for operation.
11. Its oil tank is fully sealed. No oil conservator is equipped. The oil in the tank is insulated from the outside. No leakage and maintenance need.
12. This combined transformer is new designed based on S9 with low consumption.
13. It has strong short-circuit resistance and overload capability.