Semi-conductor crepe paper
1.Characteristics:Wrinkling uniform and no damage in apparence, have uniform thickness,with high dielectric properties.
2.Usage:Semi-conductor crepe paper is maily used to produce mutual conductor, transformer, power cable, switch cubicle with voltage under 220v. It is suitable for partal electricity dischange for all products in the above industry.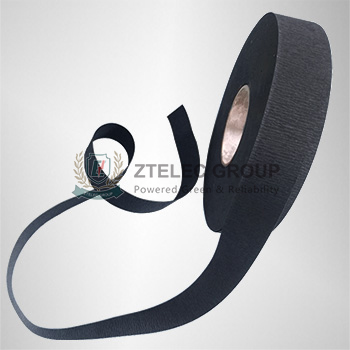 No.
Item
Unit
Index value
Typical value
Inspection method
1
Gram weight
g/m3
105-120
110
ISO536
2
Drawing index
Nm/g
≥28
42
42IEC554-2
3
Drawing intension
Kn/m
≥2.1
3
ISO1924-2
4
Tear length
km
≥1.8
2.7
ISO1942-2
5
Break elongation
%
≥45
50
ISO1942-2
6
Resistivity
kΩ
1–10
2.5
DIN IEC93
7
Test climate
Temprerature:23℃±2℃, Humidity 40%±5%RH
DIN En20187
3.ZTELEC company specializes in producing motors, transformers, transformers with the supporting products: semi-conductor crepe paper tube, hydroxyacid vgarnished glass cloth,oil varnished synthetic fabirc, silicon varnished glass cloth bushing insulation, insulating paper and other insulation materials.
4.ZTELEC company was founded in 1958, as a national enterprise offering electric insulation systems and components for national motor and power companies, military and aviation enterprises. Nearly 60 years production and R&D experience, developed to now our group mainly provides high-end products such as insulating materials, transformers and enameled copper wires. We are the most powerful and competitive manufacturer and system solution provider in the industry.